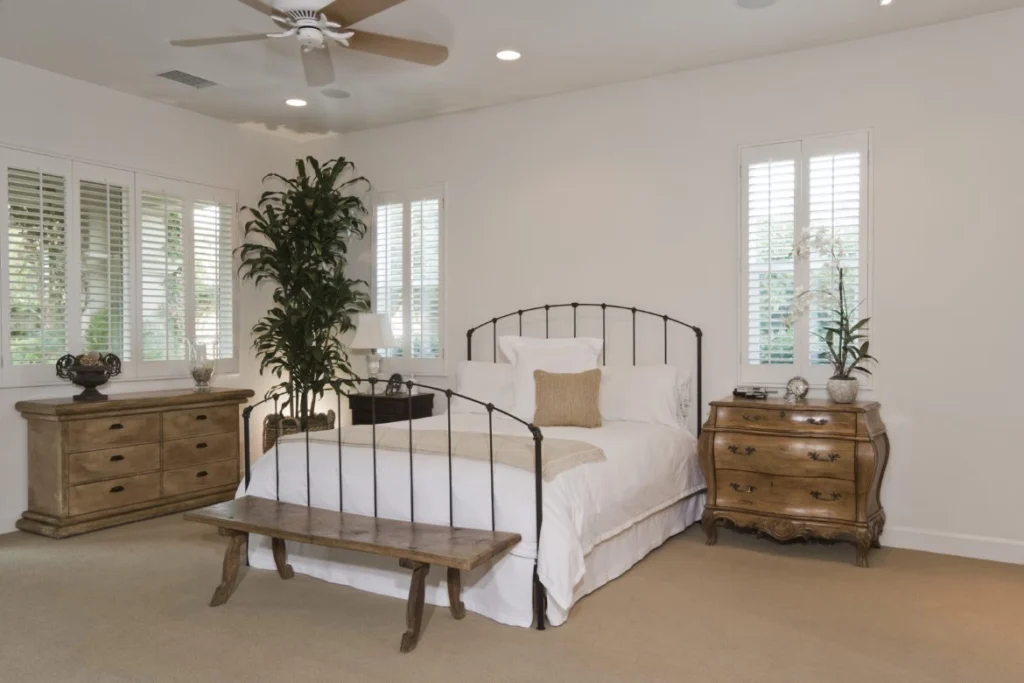 After the sitting room, the next best place where styling takes place in the bedroom. This is because, since the room is hidden and not everyone goes in, you want to have a beautiful room you can look at and be proud of, a room that welcomes you in and just makes you feel good. It should have a touch of your personality, and other things you simply love.
With stylish bedroom design ideas, you can either go full minimalist theory or be bold and daring with maximalist bedroom design ideas.
The first thing you should know about designs is that they either make the room look smaller or bigger, so if you are a person who does not like small spaces, then the minimalist design style is all yours, if you are a fan of a cluster, then you can go for the maximalist bedroom design.
Minimalist stylish bedroom design ideas
When you are going with the minimalist theory for bedroom design ideas, keep in mind that the idea is to look small, not empty. You have to use items that are not all over the place, that are not so big, and that tends to give the idea of space.
Here are a few ideas on how to go minimalist with your stylish bedroom design
Go monochrome
When setting the colors for your room, a splash of colors or patterns make the space look smaller. But when you stick to single colors without plenty of designs, the room has a spacious look. To achieve this, go neutral with the wall painting, and then get single colored curtains that seem to fit with the neutral colors, same for the sheets. If there are going to design, a few designs on the sheets will be just fine, you can get sheets with lines as designs, or boxes. Stay away from flowery patterned curtains and sheets, they do not go well with the minimalist idea.
Use a beach theme
The beach is a good definition of less is more. You see just a few colors at a beach, yet it seems like all the colors in the world are at the beach. You can paint your walls white, then go for a sky-blue look for sheets and drapes, with a mixture of the color of the sand. Then make a point of touching the room with brown, black stones from the beach, and maybe a small touch of green (this can certainly be excluded as it tends to look out of place if not placed right). Put an artwork depicting the beach on the wall, one or two.
Go dark
Not everyone might like this bedroom design idea, but if you are a person that would rather pick a do-not-disturb me cool look over an all-things-bright-and –beautiful warm look, then you can go for a dark grey wall, light grey sheets, wooden designs, and artworks that are mostly abstract. This kind of designs, while they belong to the minimalist group, they also tend to look like they belong to the maximalist designs. This design would need a professional's touch, so if you can, get an interior designer to help you out.
Leave all the flowery patterns for the bed: If you are someone who sincerely wants the flowery designs, let them all happen on the bed, in small and medium sizes, do not go so bold. They look better when they are not all over the place.
Maximalist Bedroom Design Ideas
The idea of maximalist bedroom design is to create something that looks like clutter, feels like clutter, but is too arranged and synchronized to be a clutter. It should make the room look smaller than it is.
A rule of thumb with a maximalist bedroom design is to reduce the clutter when the room seems smaller. The idea is not to choke yourself.
Color, color, color
The most important part of the maximalist design is coloring. You have to go bold, you have to go bright, you have to go all the way with colors. You can go for bright wallpapers, bright patterned paintings, flowery designs. If it looks colorful and bold, go for it. have flowery designs on your curtains and sheets. Just get as many bold colors as you can get, just make sure that they match. If you need ideas on how to match colors, surf the net or ask an interior designer for help.
Artworks always look amazing
Artworks are perfect for a maximalist design, get artworks with flowers, or even murals. Get big ones, small ones, and arrange them in a pattern all over the walls of the room. Make the walls look like an art gallery, or better yet, make on part of the wall look like an art gallery, just make sure you get artworks.
Pick something you love and get different versions
This is easier if you like books, it is also easier if you are a fan of artworks. If you are a fan of books, get a shelf built over your bed and fill it up with books, such that you can just roll over to the side to get a book if you need one. If you love flowers, have a vase with bold colored flowers at the side of your bed, or one of two corners of the room.
Get to work with the bed
Have a bold color on the headboard, have colorful sheets, and more importantly, have pillows with different colors that already appear in the room.
There are a lot of bedroom design ideas out here, as long as you know what you love, and what your personality is like, adjusting them into the style of the room would not be so hard, and if you are having issues putting all of these thoughts into the designing, you can always ask for help from an interior designer.
Just keep in mind that whatever design made in your room, it should be a design you are most certainly pleased to return to at the end of the day.